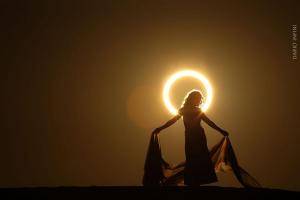 May 2012's solar eclipse created a wake of eye-catching "ring of fire" images as it delighted millions in its path. Indiana photographer Dario Infini successfully completed his "SolArt Project", applying an artistic bent to the annular eclipse.

"The circumstances of clear weather, accessibility and a relatively unobstructed view near the horizon made this a very rare set of photos, potentially once in a lifetime," said Infini. Not that shooting them came without its challenges. Aside from "known unknowns" like the uncertainty of whether unprotected camera equipment might be damaged or even catch fire attempting to focus on the solar disk, there were also unpredictable challenges such as last minute scramblings to replace unaccounted for models and gaining access to private land for the ideal location.

Reflecting on his four years of preparation, Infini mused, "A lot of research and calculations nearly came undone up until the last moment when all the linchpins...